The 43km Thomson-East Coast Line (TEL) is Singapore's sixth MRT line, adding 32 new stations to the existing rail network, with seven interchange stations linking the TEL to all five existing MRT lines. TEL will open in stages from 2020. When fully operational by 2024[1], the TEL is expected to serve approximately 500,000 commuters daily in the initial years, with the figure rising to about one million commuters in the longer term.
Besides enhancing connectivity between the north, central and eastern parts of Singapore, the TEL will strengthen the resilience of our rail network by providing alternative travel routes for commuters on other lines.
Thomson-East Coast Line 1 (TEL1)
The TEL1 comprises one depot at Mandai and three stations, including an interchange station at Woodlands that links to the North-South Line (NSL), providing commuters in Woodlands greater accessibility and shortening their travelling time. Woodlands Station is also equipped with a Civil Defence shelter.
1. Woodlands North Station
Woodlands North station is located between Woodlands Avenue 9 and Admiralty Road West. The station is about 270 metres long, 48 metres wide and 22 metres below ground level. It has two entrances and comprises two levels – concourse and platform.
Students at Republic Polytechnic can enjoy better connectivity with the opening of TEL1, with Entrance 1 leading directly to the school.
Platform at Woodlands North Station
New Departures by Amanda Heng

This artwork explores borders and boundaries from a personal perspective rather than a physical one. The artist invited individuals to share their personal courageous acts when they had crossed their own boundaries. This artwork was created to inspire our commuters to take on their daily life with courage and positivity.
Amanda Heng is a pioneer Singaporean contemporary artist known for her collaborative and multidisciplinary approach in art, who was conferred the cultural medallion in 2010. Her works explore real-life social issues in the context of Singapore's multicultural society.
2. Woodlands Station
Woodlands Station is located between Woodlands Square and Woodlands Avenue 2, and is an interchange station with the NSL, improving connectivity for Woodlands residents and commuters. The station is about 330 metres long, 30 metres wide and 24 metres below ground level. It has four entrances and comprises two levels – concourse and platform.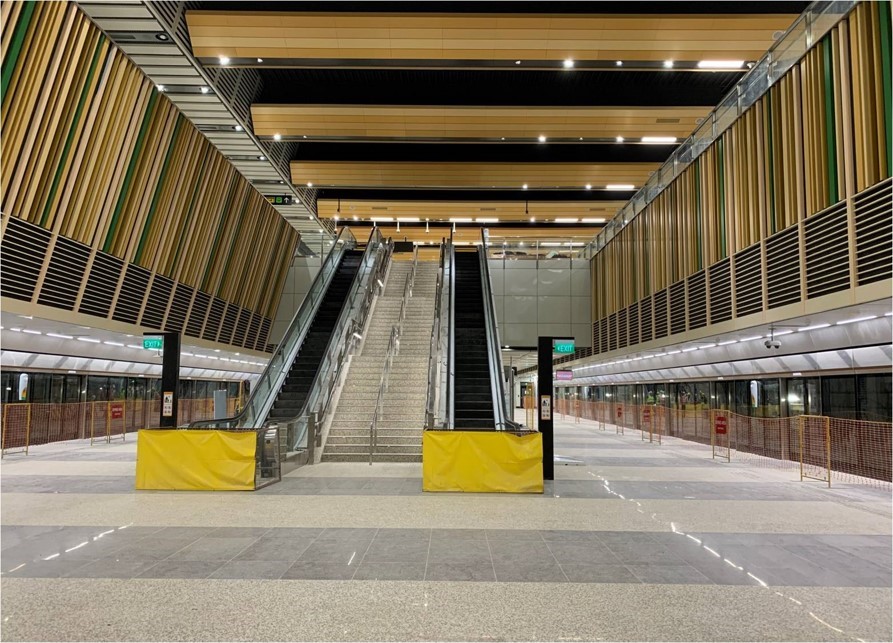 Platform at Woodlands Station
The Day's Thoughts of a Homespun Journey by Terence Lin

This artwork aims to present an imagination of the everyday experience of travelling, offering commuters new insights about our environment and the travelling routes we take, day and night. The artwork features various fabric patterns that hint at a homely experience. These transport forms inspire us to experience home, even as we travel from one destination to another. Various vehicles are depicted in the midst of their journey in this artwork, with drivers' thoughts translated as illuminated projections from the vehicles' headlights and thought bubbles. In them, we see the collective thoughts, aspirations and daydreams of the urban dwellers.
Terence Lin is an artist who explores themes and his personal experiences of place and home that mediate various art forms such as mixed media, installations and participatory art.
3. Woodlands South Station
Woodlands South station is located along Woodlands Avenue 1, between the Woodlands Drive 16, Woodlands Drive 17 and Woodlands Avenue 1 junction. The station is about 206 metres long, 24 metres wide and 22 metres below ground level and comprises two levels – concourse and platform. It has five entrances, one of which will open in tandem with the opening of the future Woodlands Health campus that is currently under development.
The station serves students from neighbouring schools such as Woodgrove Secondary School, Singapore Sports School, Christchurch Secondary School.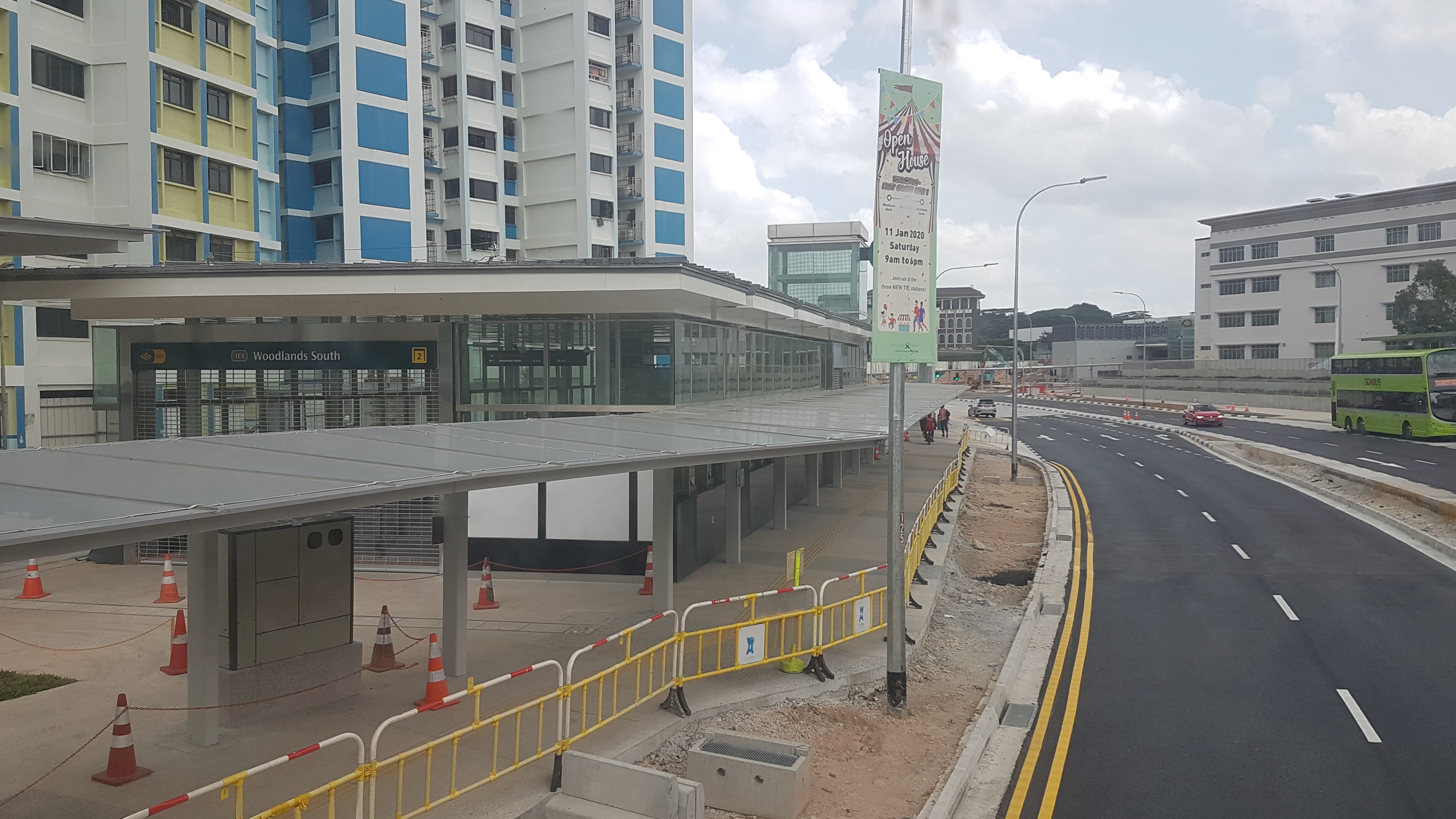 Exterior of Woodlands South Station
3652 + 50 by Kng Mian Tze

This artwork serves as a time capsule containing promises, which 50 participants from the community made to themselves publicly to work on for the next 10 years (3652.42 days). The participatory element of this artwork started in 2013 with the anticipation that by the time the station opened, all participants would have entered into different chapters of their lives. Some may have graduated, married or even brought a new life into being. The MRT is a transport system through which people travel from one point to another and the daily commute may often be seen as merely getting from point A to B, but it is also a journey of life. The artwork hopes to remind the public that the reason for their daily travel need not be only to fulfil their duties, but could also be little steps towards fulfilling promises they have made to themselves.
Kng Mian Tze is an artist who has created public art that involves the community.
Train frequency of TEL1
Passengers can look forward to new five-door, four-car trains for TEL. Trains will be running along TEL1 stations from Woodlands North to Woodlands South at frequencies of 10 minutes during peak hours and 15 minutes during off-peak hours, at the commencement of passenger service for TEL1. As ridership on TEL1 increases, the frequencies for both peak and off-peak hours will be reviewed and adjusted.
Future stages of TEL
The second stage of the TEL comprises six stations from Springleaf to Caldecott, with two interchange stations at Bright Hill and Caldecott. Bright Hill station will link to the future Cross Island Line, while Caldecott station will link to the existing Circle Line.