Innovative methods have been used to construct Katong Park station and safely overcome challenges such as space constraints and soft ground conditions. These have helped to ensure the timely construction of the Thomson-East Coast Line (TEL).

Overcoming space constraints

2.  The Katong Park station site is located at the major arterial junction of Fort Road, Tanjong Rhu Road and Meyer Road. It is also surrounded by residential properties. This creates space constraints which prevent the construction of launch and retrieval shafts for the deployment of Tunnel Boring Machines (TBMs).

3.  To overcome this limitation, the launch shaft was constructed at an empty site near the Singapore Swimming Club, which is a distance away from the construction site. Tunnelling works then proceeded through Katong Park station and continued towards the next station at Tanjong Katong. Excavation of the station box could only commence after tunnelling works were completed.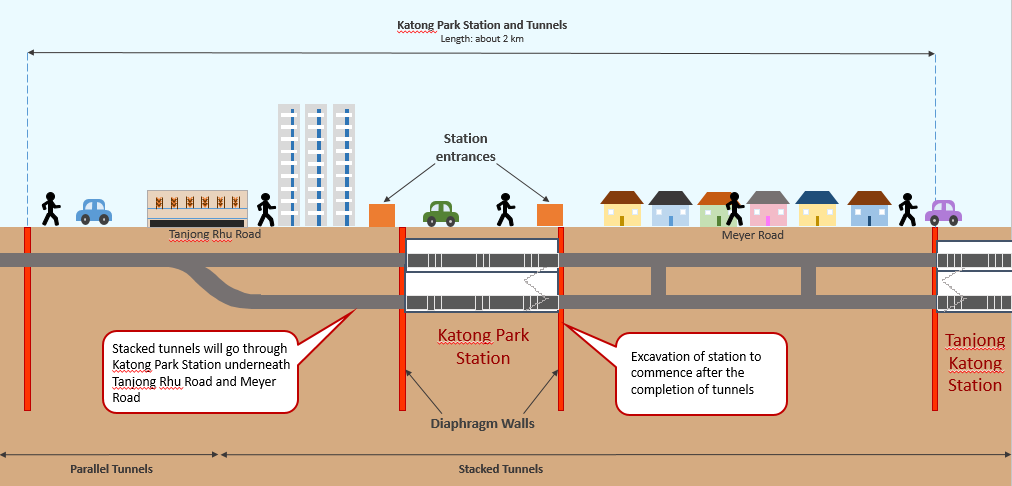 4.  Due to space constraints, the tunnels at Katong Park station are stacked on top of each other to reduce the overall station footprint, and avoid encroaching on adjoining private land. Similar to Promenade and Stevens stations on the Downtown Line, commuters will need to go to different levels of the station to board trains travelling in opposite directions.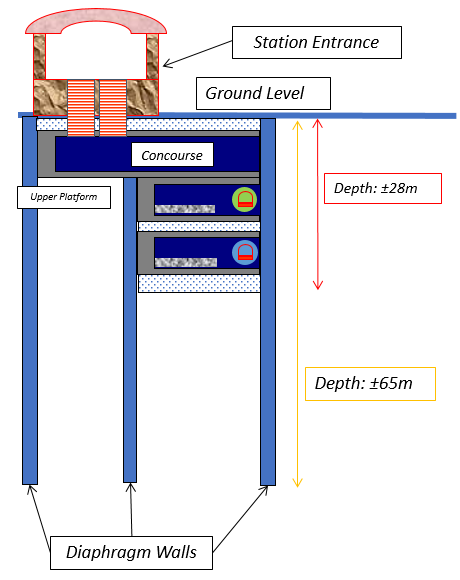 Ground Conditions at Katong Park Station

5.  The ground at Katong Park station is primarily composed of soft marine clay, which has the consistency of peanut butter. To minimise construction risks, selected stretches of the ground were strengthened to facilitate tunnelling works. To ensure that the station's foundation is stable, the diaphragm walls extend 65m below the ground, beyond the 28m depth of the station box.

The Progress of TEL

6.  The 43km-long TEL will have seven interchange stations linking the TEL to all five existing MRT lines. Besides enhancing connectivity between the north, central and eastern parts of Singapore, the TEL will also strengthen the resilience of our rail network by providing commuters with more alternative travel routes.

7.  The construction of the TEL is progressing well, and commuters look forward to enjoying the TEL in stages from 2019. Once fully operational in 2024, the TEL will be Singapore's sixth MRT line, serving approximately 500,000 daily commuters in the initial years, with the figure rising to about one million in the longer term.

2019:  Woodlands North - Woodlands - Woodlands South

8.  TEL Stage 1 is about 90% complete and on schedule to open later this year. Structural works and track laying in the tunnels has been completed. Architectural and Electrical & Mechanical (E&M) fitting out works in Mandai Depot and the three stations are progressing well. Trains for TEL are being delivered and tested progressively in Mandai Depot.

2020: Springleaf - Lentor - Mayflower - Bright Hill - Upper Thomson – Caldecott

9.  TEL Stage 2 is about 80% complete, and is on schedule to complete in 2020. Structural works for stations and the tunnels connecting them have been completed. Track laying in the tunnels is near completion. Entrance structures, Architectural and E&M fitting out works in all six stations are progressing well.

2021: Mount Pleasant - Stevens - Napier - Orchard Boulevard - Orchard - Great World - Havelock - Outram Park - Maxwell - Shenton Way - Marina Bay - Marina South - Gardens by the Bay

10. TEL Stage 3 is about 70% complete. Structural works for stations and the tunnels connecting them are near completion. Track laying in the tunnels, Architectural and E&M fitting out works have commenced at a few locations.

2023: *Founders' Memorial - Tanjong Rhu - Katong Park - Tanjong Katong - Marine Parade - Marine Terrace - Siglap - Bayshore

11. TEL Stage 4 is about 40% complete. Stations' retaining wall works are near completion, and excavation and structural works for most of the stations have commenced. Tunnelling works are progressing well.

*Founders' Memorial station will open in tandem with the Founders' Memorial

2024: Bedok South - Sungei Bedok

12. TEL Stage 5 is about 25% complete. Stations' retaining wall works are in progress, in tandem with road and utility diversions. Retaining walls for construction of the East Coast Integrated Depot have been completed, and excavation and structural works are progressing well.