Modern railway systems are becoming increasingly complex. The use of sophisticated mechanical and electrical equipment that enable automated functions has reduced the reliance on manual operations (e.g. driving trains).

2. To enable these automated control functions, electronic cards are critical components installed in trains and various sub-systems such as signalling, communications and smoke-detection systems. For example, on a typical North-South East-West Line train, there are, on average, 800 electronic cards embedded in its systems for various functions. Fully functioning electronic cards therefore serve an integral role in ensuring that trains continue to run smoothly and reliably.

3. An electronic card can contain a few hundred individual components, and one faulty component can adversely affect the proper functioning of the entire card. When these electronic cards fail, their diagnosis and repair can often be a time-consuming and expensive process as parts have to be sent back to their Original Equipment Manufacturers' (OEMs) facilities, which are mostly overseas. This leads to a longer downtime before the train can be put back into service.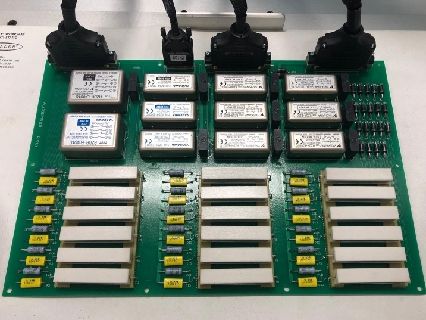 An example of a propulsion electronic card found in passenger trains
Improving local capabilities for electronic card repair

4. Significant investments have been made in recent years to enhance and rejuvenate our railway systems in order to deliver reliable and safe train service. As part of our efforts to sustain rail reliability, LTA is exploring longer-term, strategic avenues to develop and enhance local capabilities for railway maintenance, instead of relying heavily on OEM suppliers' overseas expertise.

5. To encourage the industry, public transport operators (PTOs) and OEMs to work together and synergise their knowledge and expertise for railway maintenance, LTA's procurement process for new trains and railway systems now includes a localised support arrangement from OEMs as part of the contract. Under this agreement, suppliers are encouraged to set up local support offices in Singapore and provide PTOs with training, technical and logistics support to ensure that the trains and other systems are rigorously serviced over their entire life cycle.

6. By pooling knowledge and resources locally, equipment such as faulty electronic cards can be diagnosed and repaired more quickly, reducing service downtime. As a start, a Memorandum of Understanding to facilitate such knowledge-sharing was signed between ST Engineering and rail operators SBS Transit and SMRT Trains in June this year. By pooling their resources, capabilities and equipment together, ST Engineering's electronic cards repair facility is part of this consolidated effort to enable shorter turnaround time and better cost efficiency in the repair of electronic cards.