As part of its efforts to promote a caring and gracious commuting culture, the Land Transport Authority (LTA) has launched a pilot for a new initiative aimed at helping those with invisible medical conditions to get a seat more easily on trains and buses.

2. From today, public transport commuters with invisible medical conditions that may prevent them from standing for prolonged periods1 can obtain a special sticker to alert fellow commuters that they require a seat. These stickers will be progressively made available at all MRT stations, Bus Interchanges, and TransitLink Ticket Offices. Commuters who wish to obtain these stickers should approach the Passenger Information Centre or Passenger Information Office at any MRT station, Bus Interchange or TransitLink Ticket Office. They can bring their medical certificates or doctors' letters to support their request if comfortable.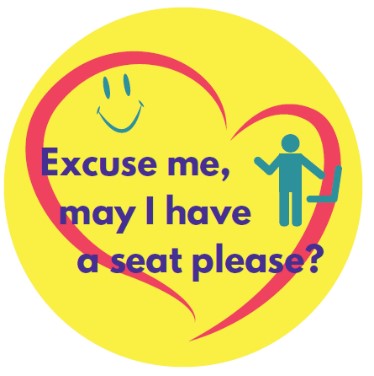 3. Ms Priscilla Chan, Deputy Group Director (Public Transport) at LTA, said: "Commuters have consistently demonstrated graciousness to the elderly or expectant mothers on public transport. However, there is another group of commuters whose conditions are often hidden and yet they need seats just as much."

4. Ms Chan added: "Following consultations with various Voluntary Welfare Organisations, we are embarking on this visual identifier pilot to bridge the gap between commuters with invisible medical conditions and fellow commuters who now will not need to second-guess the needs of these commuters. Similar initiatives have been implemented on other public transport networks such as along the London Tube and in Japan, and we hope it can also be effective in Singapore."

5. Commuters are encouraged to give up their seats to those wearing these stickers, as well as to those around them without stickers, but who may also need seats, such as senior citizens, expectant mothers, and parents with young children.

6. As outlined in the Land Transport Masterplan 2040, LTA is committed to enhancing accessibility and better serving those with special needs. We welcome feedback from the public, and will work with the Social Service Agencies, Public Transport Operators and other stakeholders to improve this initiative. The pilot, which will be reviewed by mid-2020, will complement other efforts such as priority queues and the Public Transport Council's Caring SG Commuters movement, which includes the Heart Zones initiative, to foster a gracious and inclusive land transport system.