SG Mobility Gallery
Prior booking is needed three working days in advance for all visits, click here
to book your visit.
The SG Mobility Gallery provides a behind-the-scenes look at how LTA plans, designs and builds our land transport system while balancing efficiency, liveability and inclusivity as it leverages technology for smarter urban mobility.

Look forward to a host of interactive activities and multi-sensory exhibits as you take on the role of a transport planner. Try your hands at planning an efficient and sustainable transport network, as well as experience the training of public transport workers through Augmented Reality (AR) and Virtual Reality (VR) experiential activities.
Educational Resources
Gallery Explorer's Kit
Primary Level
Download or grab a copy of this kit from the gallery to be used as a learning guide for students as they explore the gallery! The kit is aligned to the primary school Social Studies curriculum on transport developments in Singapore.
Geographical Investigation (Transport Systems)
Secondary Level
This kit allows students to deepen their understanding of transport systems through the Geography Inquiry (GI) Process. This kit is meant for teachers and students and includes a step-by-step guide on the GI process, using a sample inquiry question.
School Programmes
Safe Route to School
Primary Level
Designed to engage with schools, Safe Route to School (SRS) is a programme that aims to enhance road safety around the school environment. LTA collaborates with primary schools, stakeholder agencies and the community to identify and promote safer walking routes from the nearest transport node to school. Students will be involved in activities such as brainstorming of ideas or designing traffic information signs. These designs will eventually be used as actual road signs. This process helps students develop a better understanding of road safety and have ownership over their immediate physical environment.
Confidence on Wheels
Primary, Secondary Level
Confidence on Wheels is a 45-minute theory and practical programme for students. It aims to educate participants on how to safely ride and handle active mobility devices such as bicycles. The programme also features customised learning journeys for students with an emphasis on practical riding skills. This helps instil confidence and foster safe riding habits.
Be a Vigilant Commuter
Primary, Secondary Level
Under the Total Defence strategy, Civil Defence is the ability to spot signs of threats and respond effectively to crisis. All commuters have their part to play in keeping our public transport safe and we can do so by staying vigilant.
To this end, we would like to collaborate with schools to conduct talks and workshops. These programmes aim to educate students on how to spot and report security threats within the public transport network.
Zone 1: Land Transport Hero Academy
Interact with Jamie, our Gallery's virtual host for more information on each zone as well as real-time updates on foot traffic for a more pleasant visit.

Located next to the Gallery's entrance, the Land Transport Hero Academy introduces the unsung heroes of land transport and the critical role they perform in an interactive way.
For children aged 7 and below.
Zone 2: Moving Singapore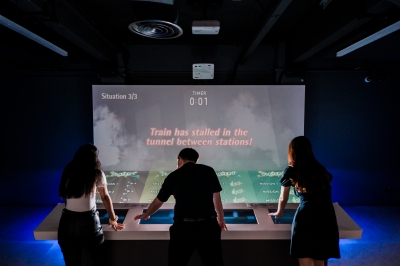 Be an Operations Executive for the day and manage congestion along Singapore's road network. Learn how every member of the Land Transport Community has a part to play in ensuring smoother journeys across the nation.
Zone 3: Connected Towns of Tomorrow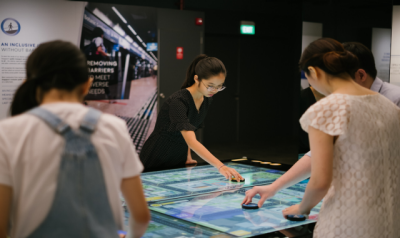 See for yourself what goes into planning an efficient transport system to meet the public's diverse needs and the trade-offs needed to improve our daily commute. Visitors take on the role of urban transport planners in a multisensory game to design and plan infrastructure wisely to keep residents connected and happy.
Zone 4: Future Mobility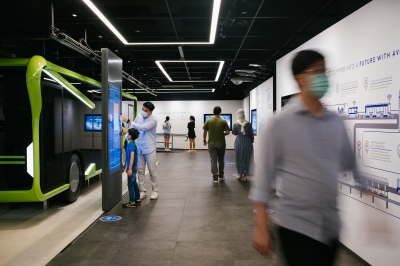 Learn how LTA taps on technology to achieve an efficient, inclusive and seamless transport system. LTA's Future Concept Bus, Singapore's vision for Autonomous Vehicles, Smart Lamp Posts, Hands-free Ticketing System and Future Traffic Management System are featured in this zone.
Zone 5: Future Forward Theatre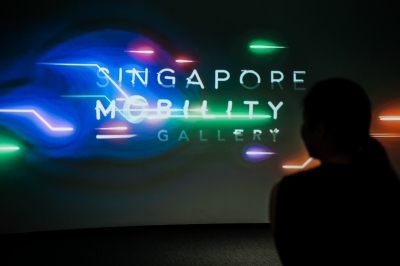 Be immersed in our 270° panoramic projection theatre and experience what goes on behind-the-scene of the various features of Singapore's land transport system.
Zone 6: Training the Workers of Tomorrow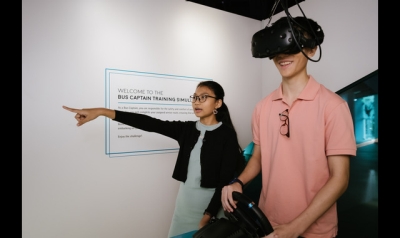 Find out how technology can be harnessed to enhance the upskilling of public transport workers. Through the use of AR and VR, this zone gives an insight into the day-to-day tasks of four public transport workers in different settings.
(Some interactive features in this zone will remain closed for your safety.)
Registration and Visitor Information
Free Admission
Opening Hours:
Mondays to Fridays: 9.30am to 5.00pm (excluding Public Holidays)
Important notice: All visits will be by appointment only. The Gallery will be closed at all other times. No walk-ins will be allowed.

Click here to book your visit.
Address:
Land Transport Authority
No. 1 Hampshire Road, Block 1 Level 1
Singapore 219428