SG Mobility Gallery
The SG Mobility Gallery provides a behind-the-scenes look at how LTA plans, designs and builds our land transport system while balancing efficiency, liveability and inclusivity as it leverages technology for smarter urban mobility.

Look forward to a host of interactive activities and multi-sensory exhibits as you take on the role of a transport planner. Try your hands at planning an efficient and sustainable transport network, as well as experience the training of public transport workers through Augmented Reality (AR) and Virtual Reality (VR) experiential activities.
What's On
" I Can Be A Caring Commuter Hero!" Art Competition 2023
Caring commuters, unite!
Big or small, every act of kindness and compassion helps to make journeys friendlier and more pleasant for everyone on our public transport.
Show us how commuters like yourself can help to show care by creating a caring commuting experience for others on our public transport and be a Caring Commuter Hero!
We invite aspiring young artists to express through art what we can do to create a pleasant journey for all onboard our public transport.
The top 3 winners will win an iPad! Selected art pieces will also be featured at various public transport nodes in Singapore!
Competition Details
Competition Period
1 July 2023 to 30 September 2023
Age
7 to 12 years old
Theme
'I Can Be a Caring Commuter Hero!'
Submission Portal
https://go.gov.sg/lta-artcompetition-2023
Download Art Competition Kit

https://go.gov.sg/artcompkit2023

Important: Ensure that you have read through the information in the Art Competition Kit before you submit your artwork at the Submission Portal!
Participants are encouraged to consider the needs of different commuters, including (but not limited to) people with disabilities, seniors, pregnant women, parents with young children, passengers with hidden disabilities, or even someone you see on your daily commutes, who just needs a hand or two for the day.
Consider these possible scenarios of commuters with needs around us:
A commuter with an invisible medical condition: "I would appreciate a seat to rest on my journey home because of my invisible medical condition, as seen by the 'May I Have A Seat Please' lanyard I'm wearing."
A senior commuter: "I wish someone would flag down a bus on my behalf because I cannot see too well."
A commuter with a young child: "I would appreciate if someone could give up their space for me and my baby in his/her stroller when we use the elevator."
A commuter with mobility challenges: "I hope people would make space for me so that my wheelchair can turn the corner for me to get in and out of the bus/train."
We can't wait to see your creative art pieces, little Caring Commuter Heroes!

Educational Resources
Gallery Explorer's Kit
Primary Level
Download or grab a copy of this kit from the gallery to be used as a learning guide for students as they explore the gallery! The kit is aligned to the primary school Social Studies curriculum on transport developments in Singapore.
Refer here for the Answer Sheet for the Gallery Explorer's Kit.
Geographical Investigation (Transport Systems)
Secondary Level
This kit allows students to deepen their understanding of transport systems through the Geography Inquiry (GI) Process. This kit is meant for teachers and students and includes a step-by-step guide on the GI process, using a sample inquiry question.
Make the Switch: Adventure Guide
Download a copy of this e-booklet to supplement your exploration at the "Make the Switch: The Quest for Greener Land Transport" exhibition, or to simply learn more about our green land transport journey!
School Programmes
LTA offers a range of programmes to nurture students from primary to post-secondary levels, to develop sustainable and gracious commuting habits. We welcome schools to sign up for these programmes to learn more! For enquiries on our school programmes, contact us at sgmobilitygallery@lta.gov.sg
School Assembly Show
Watch this interactive assembly show and discover how small changes in our commuting habits can make a huge difference in our fight against climate change.
This programme is presented through interactive skits, games and quizzes.
Duration: 30 mins

Make the Switch Roving Exhibition
Book our 'Make the Switch' roving exhibition for display in your school! Students can learn how Singapore's land transport system is going green and how they can play a part in reducing their carbon emissions through greener commutes!
Soft copies of the accompanying exhibition resource kit can be downloaded here.
Be a Vigilant Commuter
Primary, Secondary Level
Under the Total Defence strategy, Civil Defence is the ability to spot signs of threats and respond effectively to crisis. All commuters have their part to play in keeping our public transport safe and we can do so by staying vigilant.
LTA conducts talks and workshops to educate students on how to spot and report security threats within the public transport network.
Duration: 30 mins or 60 mins
Safe Route to School
Primary Level
Designed to engage with schools, Safe Route to School (SRS) is a programme that aims to enhance road safety around the school environment. LTA collaborates with primary schools, stakeholder agencies and the community to identify and promote safer walking routes from the nearest transport node to school. Students will be involved in activities such as brainstorming of ideas or designing traffic information signs. These designs will eventually be used as actual road signs. This process helps students develop a better understanding of road safety and have ownership over their immediate physical environment.
Friendlier Roads, Happier Commutes
From bullock carts and rickshaws to modern vehicles transporting millions of people and goods across the island, Singapore's roads have played an important role in shaping our urban living environment. As we strive towards a more sustainable Singapore, can we do more to transform our traditionally motorist-centric roads to meet the needs of other users and encourage greener commutes?
Step into the world of "Friendlier Roads, Happier Commutes" where our roads get reimagined as people-friendly spaces that promote safer, more pleasant, and sustainable commutes for all! Explore this interactive exhibition and discover how our roads can be transformed to meet our commuters' evolving needs, making Walk Cycle Ride journeys accessible for everyone!
As you wander through our "design space", be on the lookout to quash RogueBot, a cyber bug determined to disrupt our plans for friendlier roads. Are you ready?
Gamified Trail @ Tiong Bahru & Redhill
Discover how we are making our roads friendlier for happier commutes!
"The Paths That Shape Us" is an interactive game that puts you through an immersive discovery of the vibrant culture and history of Tiong Bahru and Redhill, while understanding how LTA is bringing about Friendlier Roads and Happier Commutes in these two estates. All you need is a mobile device!
Visit the Hidden SG website to register and join the adventure! From now till 30 September 2023, the top 15 teams to complete the trail in the shortest time recorded by Void Deck Cat will win a limited-edition Thomson-East Coast Line (TEL) Lego set!  
For more information about the trail, check out the article on the Tiong Bahru & Redhill Game Trail: Discover Secrets Hidden In Plain Sight by Little Day Out!
Zone 1: Land Transport Hero Academy
Located next to the Gallery's entrance, the Land Transport Hero Academy introduces the unsung heroes of land transport and the critical role they perform in an interactive way. This activity is suitable for children aged 7 years and below.
Zone 2: Moving Singapore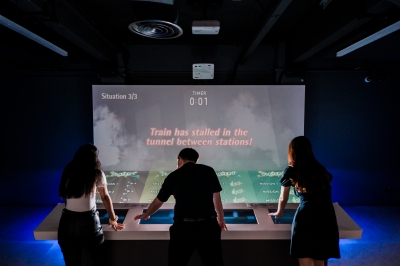 Be an Operations Executive for the day and manage congestion along Singapore's road network. Learn how every member of the Land Transport Community has a part to play in ensuring smoother journeys across the nation.
Zone 3: Connected Towns of Tomorrow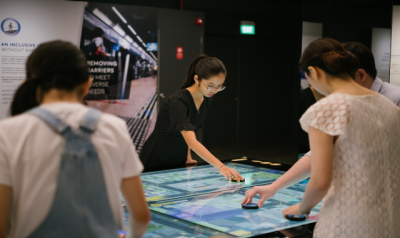 Learn what goes into planning an efficient transport system to meet the public's diverse needs and the trade-offs needed to improve our daily commute here. Visitors can take on the role of an urban transport planners to design and plan infrastructure wisely to keep residents connected and happy in our interactive game.
Zone 4: Future Mobility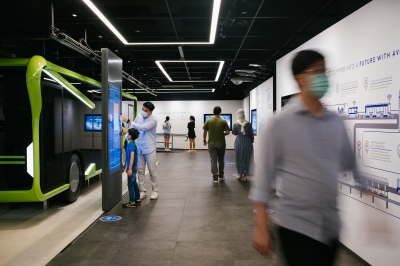 This zone showcases how LTA taps on technology to achieve an efficient, inclusive and seamless transport system. LTA's Future Concept Bus, Singapore's vision for Autonomous Vehicles, Smart Lamp Posts, Hands-free Ticketing System and Future Traffic Management System are featured in this zone.
Zone 5: Future Forward Theatre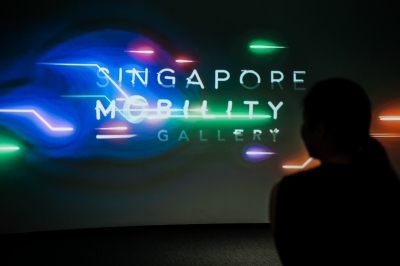 Be immersed in our 270° panoramic projection theatre and experience what goes on behind-the-scenes to keep Singapore's land transport system running smoothly and safely.
Zone 6: Training the Workers of Tomorrow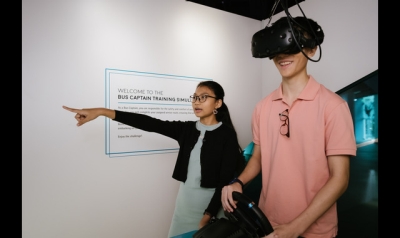 Find out how technology can be harnessed to enhance the upskilling of public transport workers. Using AR and VR, this zone gives an insight into the day-to-day tasks of four public transport workers in different settings.
Zone 7: Pledge to Make a Difference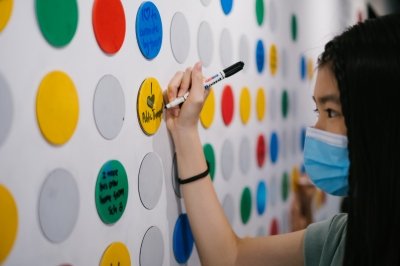 Make a commitment on our pledge wall to show how you will contribute to a car-lite Singapore where Walk, Cycle, Ride becomes your way of life.
Registration and Visitor Information
Free Admission
The Gallery is designed to be self-guided for exploration at your own pace. To learn more about the exhibits in our Gallery before your visit, read this article on SG Mobility Gallery: Take A Behind-The-Scenes Look At Singapore's Land Transport.
Registration
Click here to register for your visit to the SG Mobility Gallery.
Looking to make a booking for larger group sizes, schools and corporate visits? Register at for a Group Booking instead.
Opening Hours:
Mondays to Fridays: 9.30am to 5.00pm (excluding Public Holidays)
Email: SGMobilityGallery@lta.gov.sg
Address:
Land Transport Authority
No. 1 Hampshire Road, Block 1 Level 1
Singapore 219428
Check out our wayfinding guide for directions to take you to the Singapore Mobility Gallery from the nearest MRT station and bus stops.