East-West Line
East-West Line: East meets west and beyond
Crossing the island from Tuas Link to Pasir Ris, and measuring about 57km, the East-West Line (EWL) is the longest train line in operation in Singapore. It started as part of the North-South Line (NSL) and was expanded southwards towards Outram in 1987.

The 'original' line, ending at Boon Lay MRT station, was completed in 1990. Today, the line will take you from Changi Airport to recreational spots in Pasir Ris or towards the famous food enclaves of Geylang and Tiong Bahru. A few stops at major interchanges in the city fringe and Central Business District later, the line heads west through the 'school district' of polytechnics and universities at Dover and Clementi before it heads into the sprawling Jurong township and Tuas industrial estate.

In all, there are 35 stations on the EWL, with Jurong East MRT station being one of the busiest rail interchanges/terminal stations on the EW and NS Lines.
Train and Station Features



In February 2002, the Changi Airport MRT extension was added to connect commuters from Tanah Merah MRT station to the Singapore Expo, Changi Business Park, Changi South Industrial and Changi Airport.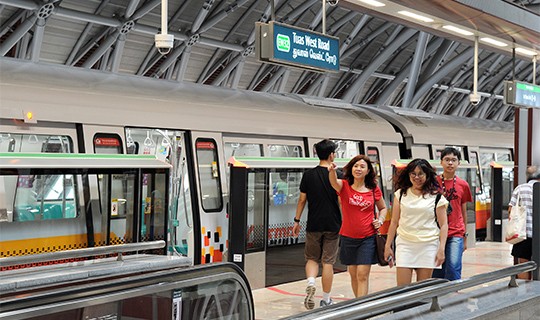 In June 2017, the Tuas West Extension opened with four new stations: Gul Circle, Tuas Crescent, Tuas West Road and Tuas Link, improving the accessibility and connectivity for over 100,000 people working in the area. Travel time and traffic congestion during peak hours was also reduced.
System renewal works to NSL as well as EWL are underway to improve reliability and raise capacity. From now till early 2020, improvements will be made to all six core systems. These include:
188 Sleepers are replaced on NS and EW Lines.
66 new trains will also be brought in to replace the first generation trains progressively.
Design and Architecture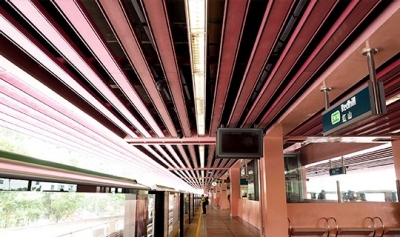 As one of the early community enclaves in Singapore, this area was named after the red coloured lateritic soil found on the hill. The colour palette of Redhill MRT station echoes, giving the station its distinct identity and making it a landmark for the community.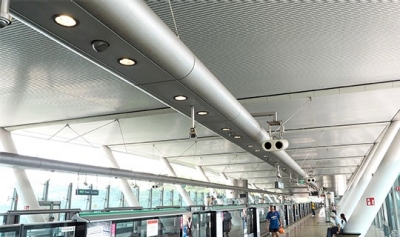 Dover is the first elevated station with two platforms alongside a central rail line. Rising 21m above ground, it was the first time a station was constructed while the line was in operation. Efficient design and practical construction methods were used to overcome the challenges of working within multi-lane carriageways. The station is distinctive with its stainless steel columns which reach up to the station's iconic curved roof, offering an airy and spacious environment below.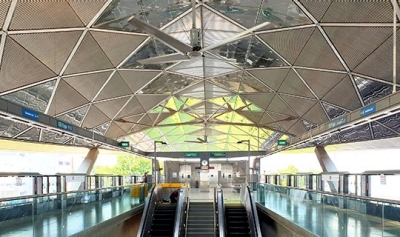 In line with Singapore's positioning as a hub for meeting and conventions, the Expo MRT station was built to serve the Singapore Expo Centre. Being close to the airport, the station's design celebrates a sense of arrival. In response to the tropical climate, the open layout and high roof encourage cross ventilation through the station. Internally, materials were chosen to enhance natural light and minimise the need for artificial lighting with polished metal surfaces reflecting daylight, while externally, cladding deflects sunrays to avoid heat build-up.
Engineering Marvels
As the EWL extension was in a very built-up, largely industrial area with a lot of traffic, utility lines and workers. Steps were taken to prevent excessive disruptions to ongoing operations and ensure the safety of buildings, roads, vehicles and people.
Utility lines had to be diverted before work started on the foundation. This required a lot of planning, digging and coordination with stakeholders.
Traffic diversions, in a heavy traffic area with many of heavy vehicles were necessary as part of the construction and building of the new line.
Extra safety precautions were taken for lifting at height as precast segments had to be raised off the ground as high as 25m – almost 10 floors high.