Rail Network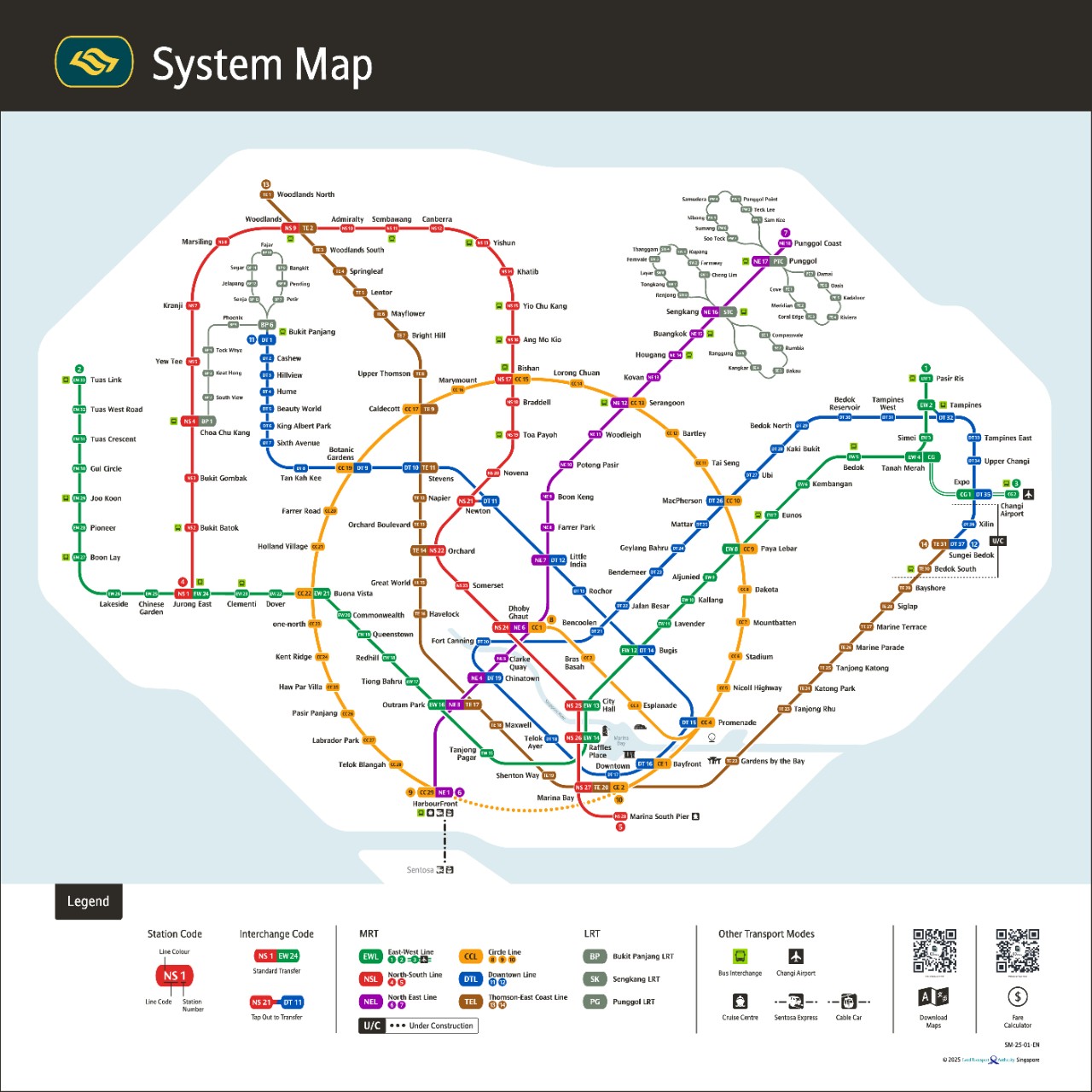 Today, more than 140 stations across six MRT lines span the island. This 200km system has over three million daily ridership. In addition, there are more than 40 stations across two LRT lines and this 28km system has over 200 thousand daily ridership. More networks  are being built to further expand rail coverage.
Complementing the rail system are the two Light Rapid Transit (LRT) systems in Bukit Panjang, and Sengkang and Punggol, which acts as a feeder service that brings commuters closer to their homes.
The train system is currently run by two public transport operators – SMRT Corporation Ltd (SMRT) and SBS Transit (SBST).
SMRT operates the North-South Line, East-West Line, Circle Line, Thomson-East Coast Line and the Bukit Panjang LRT.
SBS operates the North East Line and the Downtown Line, and the Sengkang-Punggol LRT.
Train Operation Hours and Frequency
5.30am to around midnight daily. Operating hours are usually extended during festive periods. You may check the SMRT and SBS Transit websites for changes in operating hours, or download the MyTransport app (iOS | Android).

Train frequency is 2 to 3 minutes during the peak hours of 7am to 9am and about 5 to 7 minutes during off-peak times.
Paying for Your Ride
Use a stored value card such as an ez-link or NETS FlashPay where fares are charged based on distance travelled.

You may also level up your public transport experience with SimplyGo! Use your Mastercard® or Visa contactless credit and debit cards, mobile wallets*, or NETS Tap contactless bank cards to pay for your train and bus fares, and skip top-ups altogether. Plan your journey by using LTA's journey planner or transport tools.
Please note that single trip tickets have been phased out since March 2022.
*ApplePay, Google Pay, SamsungPay and Fitbit Pay