Bukit Panjang LRT
Bukit Panjang LRT: Singapore's First Light Rail
The Bukit Panjang Light Rapid Transit (BPLRT) was launched as the first light rail line in Singapore in 1999.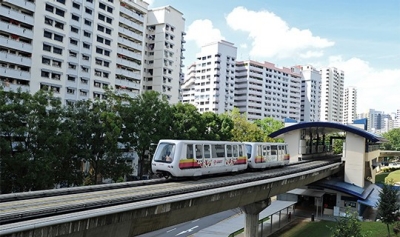 The fully automated 8km line connects residential estates within Bukit Panjang and Choa Chu Kang to the North-South and Downtown Lines, complementing existing feeder bus services. It is also the first driverless inter-town train feeder service.

To cater for the line's proximity to homes, the trains have special privacy features such as windows that automatically dim.

Having served the residents for 20 years, the BPLRT is currently undergoing a renewal project to upgrade its trains, tracks and signalling system.