North-South Line
The North-South Line: Singapore's first MRT line
Our extensive MRT system today begun with only five stations on the North-South Line (NSL) connecting Yio Chu Kang to Toa Payoh in 1987. Though it started small, NSL was the first step in Singapore's grand vision of an integrated transport system.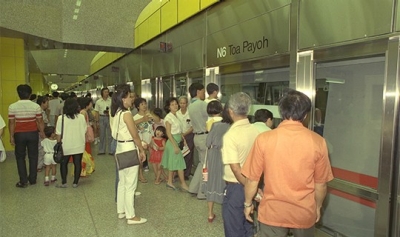 The 27 stations along the 45km line serves a large number of mature residential estates and takes commuters from Jurong East to Marina South Pier.
Along its route are eight interchanges that connect the NSL to the East-West Line (EWL), Circle Line (CCL), Downtown Line, North East Line (NEL) and Bukit Panjang LRT.
Train and Station Features



In 2014, NSL was extended by 1km beyond Marina Bay MRT station to include Marina South Pier MRT station. This station serves the Marina Bay Cruise Centre, Marina South Pier, as well as future developments in the Marina Bay Downtown area.
In 2019, Canberra MRT station was added between Yishun and Sembawang MRT stations in anticipation of future developments in northern Singapore.

To increase capacity, Jurong East MRT station was retrofitted with two new platforms in 2012. This allows two trains to enter and depart the station at the same time.
LTA previously embarked on the renewal of six core systems on the North-South East-West Line (NSEWL). This includes replacement of sleepers and the third rail system. LTA has also implemented a new signalling system which will allow shorter waiting time, a new power system with better fault detection and a new track circuit system for faster fault recovery.
As part of our long-term fleet renewal, 106 Alstom MOVIA R151 rolling stock will be progressively introduced into the fleet to replace all Siemens C651 and Kawasaki-Nippon Sharyo C751B rolling stock starting from end-2022. This is the seventh generation of rolling stock on the NSEWL. 
Design and Architecture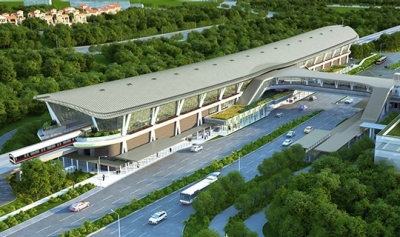 Opened in 2019, Canberra MRT station is a new stop on the NSL and it serves commuters living in nearby estates such as Sembawang Springs, as well as an upcoming mix of public and private residential developments in the neighbourhood. Five entrances are included in the station's design to better facilitate commuter movements and enhance connectivity. In additon, there is also an elevated link bridge for commuters to directly access the city-bound train platform.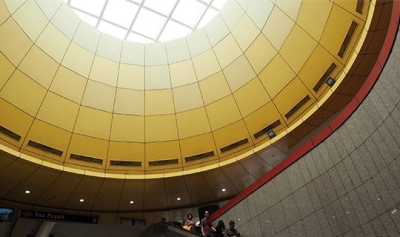 Characterised by its cheerful bright yellow interior, one easily recognises Toa Payoh MRT station as the train pulls into the station Sunlight shines through a circular skylight and lights the interior in warm hues, visually connecting commuters to the changing environment outside.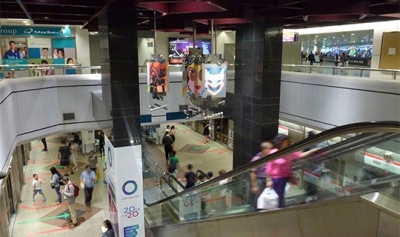 Dhoby Ghaut MRT station opened in December 1987 and evolved from a single-line station into Singapore's first three-line interchange with NEL and CCL. Wayfinding is important so that commuters can navigate quickly and easily, especially with crowds moving around the three lines and station's multiple exits that serves the neighbouring buildings. Apart from signages, artwork is also designed with wayfinding in mind, and placed strategically to orientate commuters towards the escalator areas.