Thomson-East Coast Line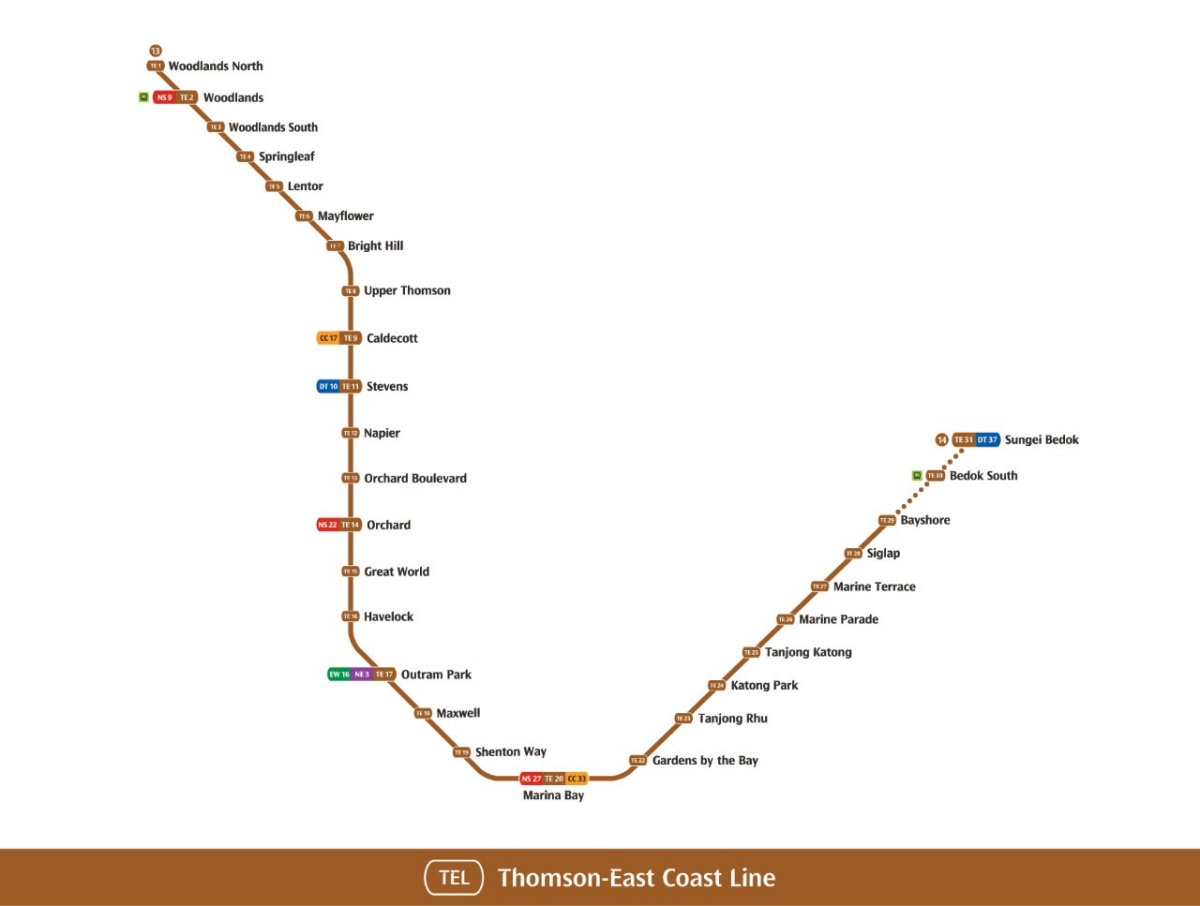 The Thomson-East Coast Line (TEL) will bring residents in the east and along the North-South Corridor closer to a train station and hence giving them faster access to the city.

Commuters will enjoy a 35-minute journey from Woodlands South to Orchard on the TEL, compared to a 50-minute journey by bus and MRT today.

Look forward to more route options with eight interchanges that connect to all the major lines: the East-West Line (EWL), North-South Line (NSL), North East Line (NEL), Circle Line (CCL), Downtown Line (DTL) and the Cross Island Line (CRL). When fully completed, the line will bring convenience to about 1 million commuters daily and relieve crowding on the East-West and North-South Lines.
Location of Stations
Stage 1, 31 January 2020: Connecting Woodlands to NSL
Stations: 3
Interchange: Woodlands (NSL)
Stations names: Woodlands North - Woodlands - Woodlands South
Stage 2, 28 August 2021: Thomson gets on board
Stations: 6
Interchange: Caldecott (CCL)
Station names: Springleaf - Lentor - Mayflower - Bright Hill - Upper Thomson - Caldecott
Stage 3, 13 November 2022: Direct access to the CBD and Marina Bay
Stations: 13
Interchanges: Stevens (DTL), Orchard (NSL), Outram Park (EWL & NEL), Marina Bay (NSL & CCL)
Stations: *Mount Pleasant - Stevens - Napier - Orchard Boulevard - Orchard - Great World - Havelock - Outram Park - Maxwell - Shenton Way - Marina Bay - *Marina South - Gardens by the Bay
*Mount Pleasant and Marina South stations will open in tandem with the completion of developments in the respective areas. Opening date to be advised.
Stage 4, around 2024: Journey to (and from) the east
Stations: 8
Station names: *Founders-Memorial - Tanjong Rhu - Katong Park - Tanjong Katong - Marine Parade - Marine Terrace - Siglap - Bayshore

*Founders' Memorial station will open in tandem with the Founders' Memorial.
Stage 5, around 2025: A more comfortable train journey for all
Stations: 2
Interchange: Sungei Bedok (DTL)
Stations: Bedok South - Sungei Bedok
Key Facts



To meet the commuter demand along the line, there will be 91 new, fully-automated, four-car trains – the first in Singapore – and with more doors for faster boarding. The trains will be 92.9m long, compared to the 70m-long three-car Circle Line (CCL) and Downtown Line (DTL) trains, and also boast exciting features including the LCD Dynamic Route Map Display (DRMD).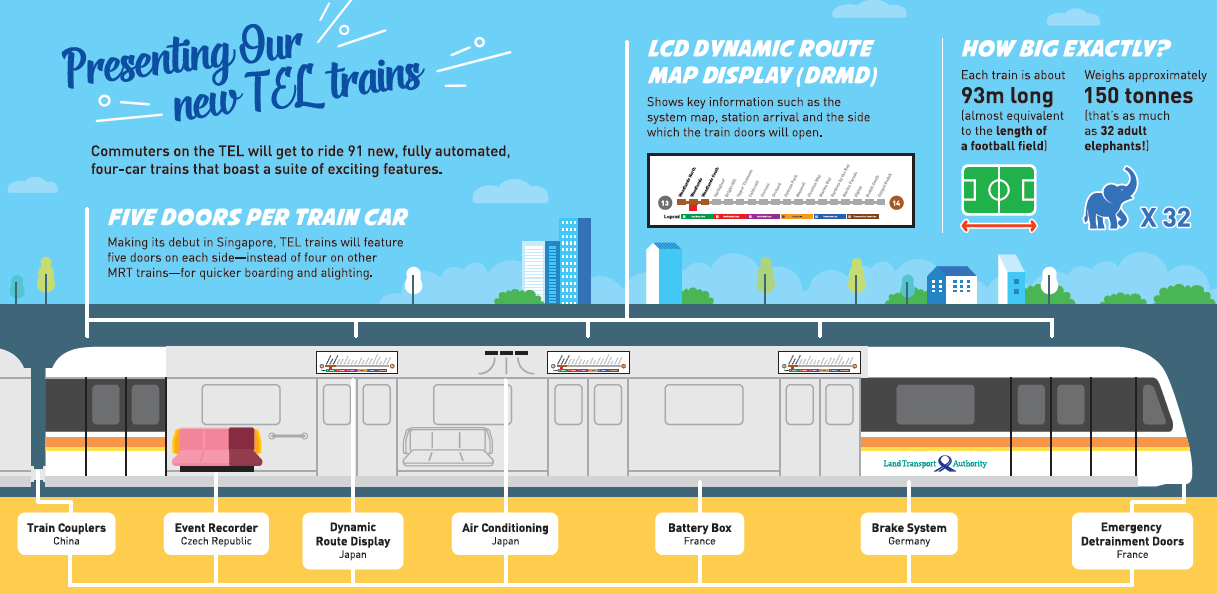 Find out how a TEL Train is assembled in this video!
Stations
All stations will have more entrances to improve accessibility, as well as longer pedestrian underpasses to offer more shelter and shorten walking times.

Four stations along the TEL – Marine Parade, Marine Terrace, Bayshore and Sungei Bedok – will feature Singapore's first underground bicycle parking facilities so commuters can conveniently cycle to and from the stations to their homes.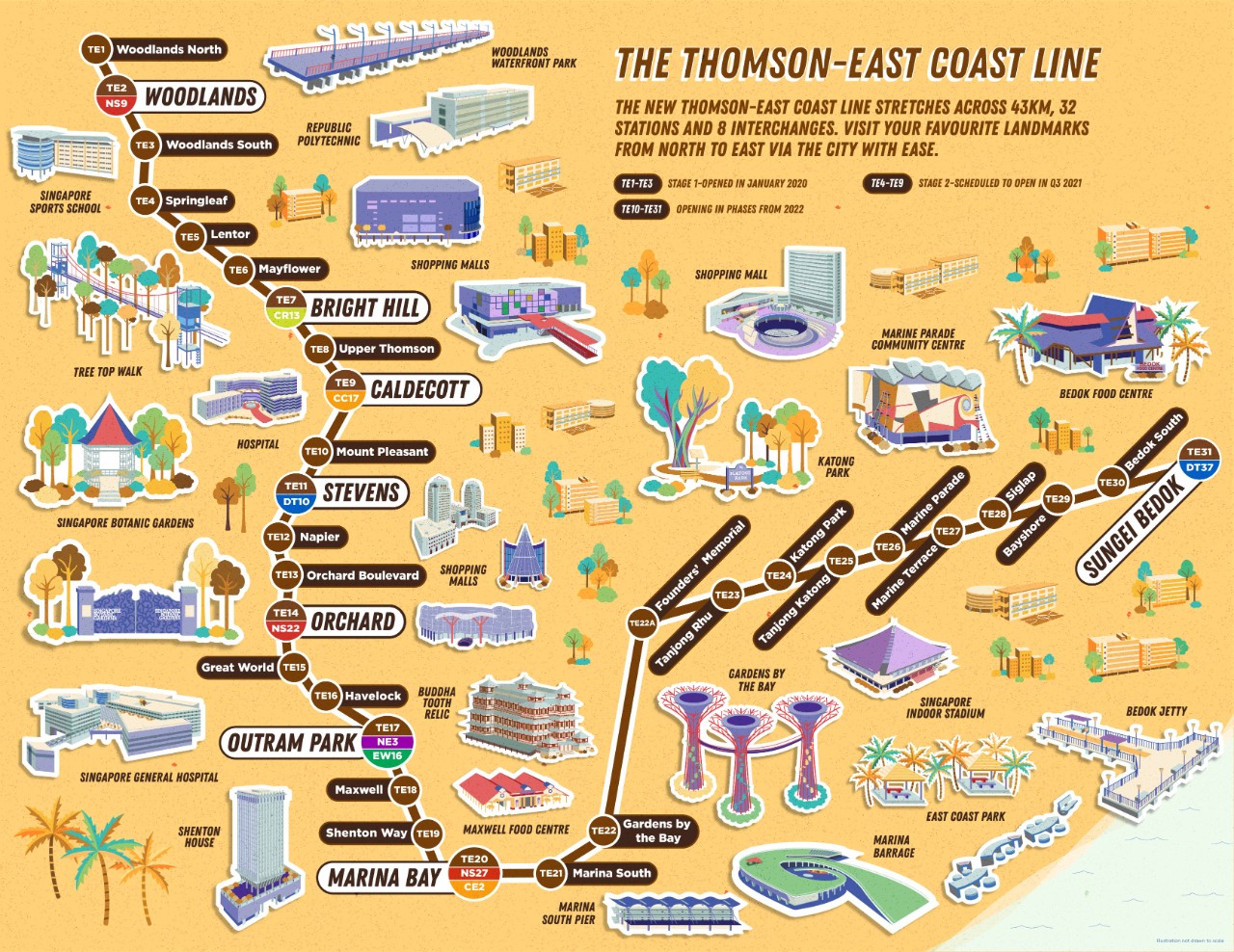 Engineering Marvels
The TEL pushes the boundaries of engineering expertise and features several firsts.
The TEL will have the world's first four-in-one train and bus depot, with three train depots and one bus depot having the capacity to house 220 trains and 760 buses in multi-storey complexes. This translates to a land savings of over 60 football fields (44ha). This elevated depot will be the first of its kind, built to support the immense weight of hundreds of trains.

For the first time, a retractable micro-tunnel boring machine was used to install internally interlocking pipes to connect the underpass across Orchard Boulevard to the TEL and North-South Line's station platforms. To ensure this could be done safely, improvement works were carried out to stabilise the ground and facilitate the micro-tunnelling and mining.

24-7 monitoring for settlement and movement with real-time monitoring instruments kept disruption minimal to Orchard MRT Station, one of the busiest in Singapore.

Special methods to assess soil conditions were used in place of traditional borehole methods in some areas. These 'non-invasive' methods include using ground vibrations or electric currents to determine the resistance of the soil, which is useful in built-up areas where digging is not feasible.

Ice walls were used for the first time in our construction to stabilise the earth before tunnelling works were started for the TEL's Marina Bay station. The ground-freezing method was used in this area because of the high permeability of the soil increased the risk of water seepage.